Piccoli Segreti (Little secrets)
The young Italian composer and pianist 
Daniele Leoni
releases his first album in September. It is entitled "
Piccoli segreti
" (little secrets) and contains 11 Piano Solo pieces which talk about youth, love and live in general.  The melodies are predominantly light and serene and add a very positive note to the album, but it does also not miss more soft and melancholic elements that invite you to dream.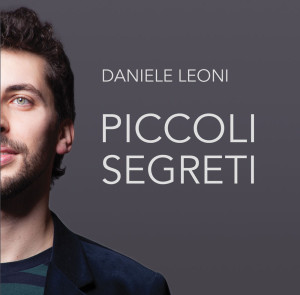 "
Portami via con te
" ("Take me with you")  a soft and joyful melody flatters his sweetheart and asks her, begging to answer his prayers and to take him with her.    "
Il primo bacio
" (The first kiss) Sweetly and gently and in light-heartedness  occurs the first kiss.  
"Nel profondo dei tuoi occhi"
With a deep look into her eyes, he is lost… a warm melody with sparkling tones tells from the fond and tender feelings, that she awakens in him, how much she means to him and makes him happy.   "
Teenagers
" During the teenager years everything is light and you feel elevated and like playing up and dancing. But at the end there appears a shade of thoughtfulness and uncertainity. Where does the road go?   "
Deltaplano
" (Hang glider) Floating through the air like a leaf, carried by the wind and accompanied by the clouds. Up and down, somethimes in a fast flight forward, then slowly sliding across fragrant fields and flowering meadows.    "
Seduto su una nuvola
" (Sitting on a cloud) A serene journey, detached from the everyday life and without having a fixed target, simply following the path of the cloud.    "
Acquerelli
" (Aquarelle) Clear tones form a delicate, multifaceted melody that invites you to dream.    "
Ricordi
" (Memories) Just stop, reflect and let appear images from the past  and immerse yourself into the memories.     "
Rincorrere un sogno
" (To run after a dream)  To keep on a dream, even if it always seems to slip away from you, to get up again and again if the circumstances make you stumble, but finally you have to give up on your dream yet with a gentle melancoly.    "
Piccoli segreti
" (Little secrets) The title song is talking abut this and that, seemingly without going into detail,  the bright and sparkling tones leave space to your own immgination.    "
Infinito
" (Infinity) A melancholic, slightly nostalgic melody, that also has serene passages and never becomes haunting.      You can order the album 
here
, it is also available at iTunes in a 
digitale version 
.  
Here
you can read an interview with Daniele Leoni that we made for the Andrea Carri Fanclub Newsletter.  The interview is also available in 
Italian
 and
German
.   Daniele Leoni would be happy to get some Likes at his 
Facebook Seite
and visits of his official  
web site
!